cosmopak launches "rooted in beauty" packaging collection, featuring color cosmetics, skincare and body care products.
New York, NY: Today, cosmopak usa, llc, a leading beauty manufacturer renowned for its innovative packaging and turnkey offerings, is thrilled to announce the release of its latest "rooted in beauty" turnkey collection that compliments the previous "rooted in beauty" packaging collection. The new collection covering color, skin and body care is focused on clean and high-performance formulas in innovative packaging.
The color cosmetic items in the collection highlight some packaging and formula innovations for cosmopak specifically:
the lip gloss comes in cosmopak's patented magnetic vial for quick-release and easy application and has care ingredients to soften the lips.
the

"clean" lip oil balm

is housed in a luxurious ecoforward metal slimstick and the sheer formula is light on application and slight laydown of pigments.
the liquid lipstick pen is a must-have in every makeup bag, and cosmopak's patented airtight twist design ensures a mess-free and precise application.
the vibrant liquid shadow pen showcases our high-performance makeup. The silky formula glides on easily and the high level of pearl with small reflective qualities give an extreme effect on the eyes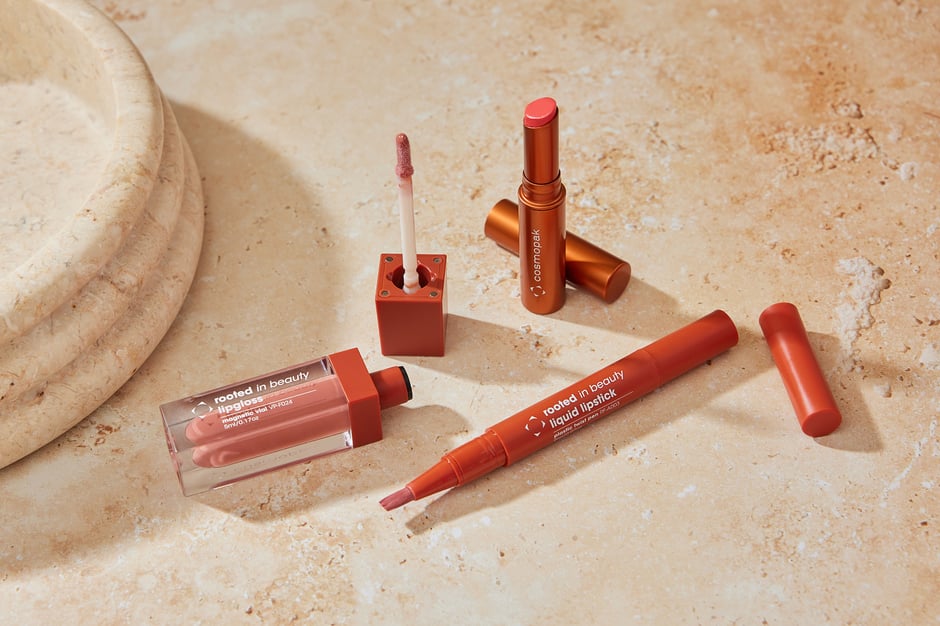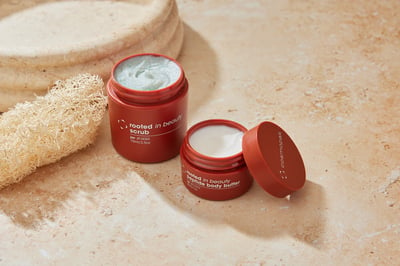 The body care range of products includes a peptide body butter and exfoliating body scrub, both packaged in jars and designed to nourish and revitalize the skin. The body butter is enriched with peptides to promote collagen production and improve skin elasticity, while the exfoliating body scrub gently removes dead skin cells for a smooth and radiant complexion.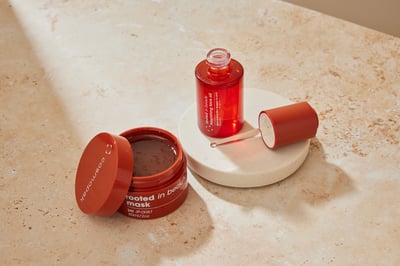 For skincare brands, cosmopak has developed a "clean" exfoliating face mask in a jar and a "clean" nourishing face oil housed in an ecoforward glass push-button dropper. The face mask contains natural exfoliants to deep clean pores and brighten the skin, while the face oil is a luxurious blend of nourishing oils to hydrate and enhance the skin's radiance.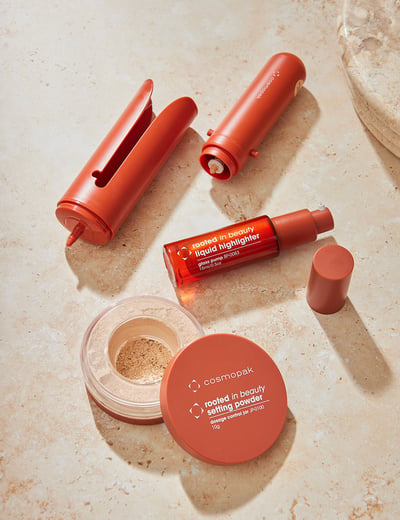 The face products in this collection include an ultralight "clean" foundation in an ecoforward refillable dispenser, a "clean" liquid highlighter in an ecoforward glass pump bottle, and a "clean" loose setting powder in a dosage control jar that helps avoid messy application.
For more information about cosmopak's "rooted in beauty" turnkey collection, please visit cosmopak.com/rooted-in-beauty/#turnkey or email sales@cosmopak.com.
---
message us to discuss turnkey solutions for your brand.
Send us a detailed message below and someone from our team will be in touch soon.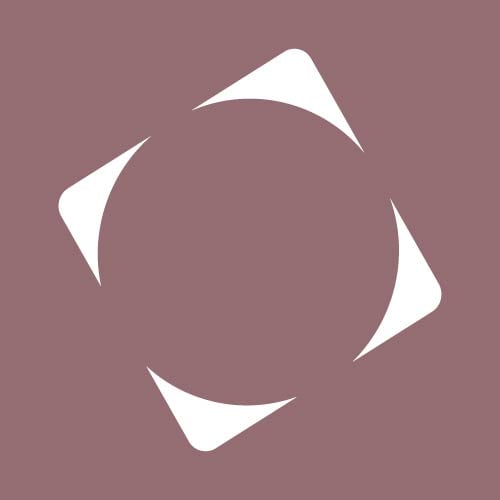 cosmopak helps beauty brands create and develop products their consumers will love.